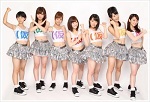 Up Up Girls Live Tour Up Up Girls Taiban Angya (Kari) (アップアップガールズ(仮)対バン行脚(仮)) will be held from February 24 to April 6.
Up Up Girls will perform concerts with Negicco, Dorothy Little Happy, Hime Kyun Fruit Can, LinQ, and a secret group during this nationwide live tour.
This event is presented by Tower Records.
Up Up Girls 3rd Live Yokohama Blitz Daikessen will be held on April 13.
Schedule
24/02/2013 : Niigata Lots ~Niigata Kessen vs Negicco~
09/03/2013 : Sendai Rensa ~Sendai Kessen vs Dorothy Little Happy~
16/03/2013 : Matsuyama Salon Kitty ~Matsuyama Kessen vs Hime Kyun Fruit Can~
24/03/2013 : Fukuoka ~Fukuoka Kessen vs LinQ~
06/04/2013 : Tokyo Laforet Museum Roppongi ~Tokyo Kessen vs Secret Opponent~