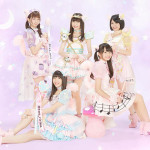 Wa-Suta's 1st album The World Standard will be released on May 4th.
This self-titled album marks the major debut of Wa-Suta a.k.a. The World Standard.
The MVs for Ultra Mirakurukuru Final Ultimate Choco Beam (うるとらみらくるくるふぁいなるアルティメットチョコびーむ) and Inu Neko Seishu Massakari (いぬねこ。青春真っ盛り) have been revealed.
The members of the idol group are dressed up like magical girls on the cover.
This album will be on sale in 110 countries.
The limited edition includes a Blu-ray and a DVD featuring the music videos and footage from The World Standard Live held in February 2016.
Furthermore, Wa-Suta are going to participate in @Jam in Shanghai 2016, in China, in June. This event will be their first overseas live performance.
Tracklist
CD

Ultra Mirakurukuru Final Ultimate Choco Beam (うるとらみらくるくるふぁいなるアルティメットチョコびーむ)
Doki Doki Today
Wonderful World (ワンダフル・ワールド)>/li>
Suki na Hito toka Imasu ka (好きな人とか居ますか)
Zili Zili Love
Ranran Jidai (らんらん・時代)
Niko Niko Hanbunko (にこにこハンブンコ)
Suika Wari (スイカ割り)
Chiisana Chiisana (ちいさなちいさな)
Inu Neko. Seishun Massakari (いぬねこ。青春真っ盛り)
Ima wa Mukashi (いまはむかし)
Blu-ray / DVD

One-man Live @ Shibuya Club Quattro 2016.2.28 (ワンマンライブ映像@渋谷クラブクアトロ2016.2.28)
Ultra Mirakurukuru Final Ultimate Choco Beam (Music Video)
Inu Neko. Seishun Massakari (Music Video)
Music Video (PV)