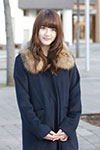 Wakatsuki Yumi (Nogizaka46) is going to make an appearance in the episode 6 of the drama Shitsuren Chocolatier (失恋ショコラティエ).
Wakatsuki Yumi will play as a college student who is the rival in love of Koyurugi Matsuri (Arimura Kasumi), the sister of the hero Koyurugi Sota (Matsumoto Jun).
Episode 6 of Shitsuren Chocolatier will air on February 17 at 21:00 on Fuji TV (フジテレビ).
Wakatsuki Yumi said that she was glad to have a role in Shitsuren Chocolatier as she likes this drama. Myumyu added that was nervous at the beginning but she had fun.
It is the second time that Wakatsuki Yumi is an actress in a drama as she had played in Bad Boys J which was broadcast between April and June 2013 on NTV.
She is a 1st generation member of Nogizaka46.