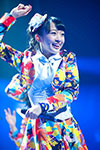 Former Party Rockets member Watanabe Koume joined Super☆Girls.
The concert Super☆Girls Live 2014 ~Chouzetsu Kakumei~ (~超絶革命~) was held on February 23 at Pacifico Yokohama.
The graduation ceremony Yasaka Saori and the arrival of 3 new members took place during this event.
In addition to Asakawa Nana and Uchimura Risa, it was announced during the live performance that Watanabe Koume joined Super☆Girls as a new member.
Watanabe Koume is a former member of Party Rockets. She graduated from the idol group in December 2013.
Shimura Rika became the new leader of the unit in place of Yasaka Saori.
Moreover, Super☆Girls' 10th single Hanamichi!! Ambitious (花道!!ア~ンビシャス) will be released on May 14.