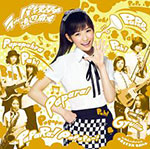 Watanabe Mayu's 4th solo single Rappa Renshuuchuu (ラッパ練習中) will be released on July 10.
5 editions are available. Each CD contains 3 songs and their instrumental versions. The coupling songs are different depending on the edition.
The limited editions include either a DVD featuring the music video, its making-of and some bonus footage, or an illustration book.
This single is the tie-up song for the event Rogoku Yuenchi kara Mayuyu woSukue!! in Tokyo Dome City Attractions (牢獄遊園地からまゆゆを救え!!! in 東京ドームシティ アトラクションズ) which will be held from July 27 to September 23.
A contest titled Anata no Illust ga Shinkyoku no Jacket ni Nari Mayuyu (あなたのイラストが新曲のジャケットになりまゆゆ) was organized through the illustration sharing site Pixiv to make a cover jacket for the CD.
Regular Edition
CD

Rappa Renshuuchuu (ラッパ練習中)
Seifuku Identity (制服アイデンティティー)
Taiyou to Sanpo (太陽と散歩)
Rappa Renshuuchuu (ラッパ練習中) (Instrumental)
Seifuku Identity (制服アイデンティティー) (Instrumental)
Taiyou to Sanpo (太陽と散歩) (Instrumental)
Limited Edition Type A
CD

Rappa Renshuuchuu (ラッパ練習中)
Seifuku Identity (制服アイデンティティー)
Cousin (カズン)
Rappa Renshuuchuu (ラッパ練習中) (Instrumental)
Seifuku Identity (制服アイデンティティー) (Instrumental)
Cousin (カズン) (Instrumental)
DVD

Rappa Renshuuchuu (ラッパ練習中) (Music Video)
Rappa Renshuuchuu (ラッパ練習中) (Making of)
Honto ni Rappa Renshuuchuu (ホントにラッパ練習中)
Limited Edition Type B
CD

Rappa Renshuuchuu (ラッパ練習中)
Seifuku Identity (制服アイデンティティー)
Koujou na Junjou (強情な純情)
Rappa Renshuuchuu (ラッパ練習中) (Instrumental)
Seifuku Identity (制服アイデンティティー) (Instrumental)
Koujou na Junjou (強情な純情) (Instrumental)
DVD

Rappa Renshuuchuu (ラッパ練習中) (Music Video)
Rappa Renshuuchuu (ラッパ練習中) (Making of)
"Hikaru Monotachi" Release Event Solo Live ~Minna de "Hikaru Mono" wo Mitsukeyou~ in Makuhari Messe 2013.1.19 ( 「ヒカルものたち」発売記念ソロLive~みんなで"ヒカルもの"を見つけよう~ in 幕張メッセ 2013.1.19 )
Limited Pressing Edition
CD

Rappa Renshuuchuu (ラッパ練習中)
Seifuku Identity (制服アイデンティティー)
Kiss no Sonar Oto (キスのソナー音)
Rappa Renshuuchuu (ラッパ練習中) (Instrumental)
Seifuku Identity (制服アイデンティティー) (Instrumental)
Kiss no Sonar Oto (キスのソナー音) (Instrumental)
DVD

Rappa Renshuuchuu (ラッパ練習中) (Music Video)
Rappa Renshuuchuu (ラッパ練習中) (Making of)
"Rougoku Yuuenchi kara Mayuyu wo Sukue!!! in Tokyo Dome City Attraction" Trailer (『牢獄遊園地からまゆゆを救え!!! in 東京ドームシティ アトラクションズ』予告編)
Pixiv Edition
CD

Rappa Renshuuchuu (ラッパ練習中)
Seifuku Identity (制服アイデンティティー)
Taiyou to Sanpo (太陽と散歩)
Rappa Renshuuchuu (ラッパ練習中) (Instrumental)
Seifuku Identity (制服アイデンティティー) (Instrumental)
Taiyou to Sanpo (太陽と散歩) (Instrumental)
Illustration Book (イラストブック)
Music Video (PV)