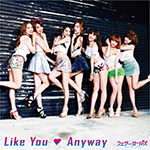 Weather Girls' new single Like You ♡ Anyway will be released on June 4.
This is the 6th single from Weather Girls.
The MV has been released.
Like You ♡ Anyway is the ending theme song for the drama Tetsuko no Sodatekata (鉄子の育て方) in which the members of Weather Girls are playing.
It is described as a "cute and addictive song fitting with the season".
The coupling track Wèi Wǒ Jiāyóu (為我加油) is sung in Taiwanese.
3 editions are available.
The limited editions includes a bonus DVD featuring either the music video or making-of footage.
Tracklist
Regular Edition

CD

Like You ♡ Anyway
Wèi Wǒ Jiāyóu (為我加油)
Like You ♡ Anyway (Instrumental)
Wèi Wǒ Jiāyóu (為我加油) (Instrumental)
Type A

CD

Like You ♡ Anyway
Wèi Wǒ Jiāyóu (為我加油)

DVD

Like You ♡ Anyway (Music Video)
Type B

CD

Like You ♡ Anyway
Wèi Wǒ Jiāyóu (為我加油)

DVD

PV & Jacket Making-of (PV&ジャケット メイキング映像収録予定)
Music Video (PV)