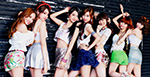 Weather Girls (ウェザーガールズ) is a Taiwanese idol group formed in July 2010.
It currently consists of 7 members.
The idol unit is managed by Next Media in Taiwan and by Ritz Productions in Japan.
History
Weather Girls started as weather forecast reporters on television and internet for Taiwan and the United States in 2010. Each member was in charge of one day of the week.
The idol group began its musical career in Japan in 2012. The members studied Japanese and took singing and dance lessons.
They participated in A-Nation festival in 2012 and 2013.
Weather Girls released their 1st single Koi no Tenki Youhou (恋の天気予報) in October 2012.
In October 2013, the contract of Dara has been terminated by the company due to her repetead absences at the activities of the unit.
Weather Girls host the TV program Attack Shimasu Kedo, Nani ka ? (アタックしますけど、何か?) on Nagoya TV (名古屋テレビ) since October 2013. It is broadcast every Sunday night.
Ria joined the idol unit in January 2014.
In April 2014, the members played in the drama Tetsuko no Sodatekata (鉄子の育て方) broadcast on Nagoya TV (名古屋テレビ放送). Their 6th sinle Like You ♡ Anyway was the ending theme song.
Profile
Weather Girls (ウェザーガールズ)
Years active : 2010 – present
Label : Pony Canyon
Agency : Next Media (Taiwan), Ritz Productions (Japan)
Members
Hijon (ハイジャン) (Monday Girl, 月曜日ガール)
Esse (エース) (Tuesday Girl, 火曜日ガール)
Mia (ミア) (Thursday Girl, 木曜日ガール)
Ria (リア) (Wednesday Girl, 水曜日ガール)
Mini (ミニ) (Friday Girl, 金曜日ガール)
Yumi (ユミ) (Saturday Girl, 土曜日ガール)
Nuenue (ニューニュー) (Sunday Girl, 日曜日ガール)
Former Members
Dara (ダラ) (Wednesday Girl, 水曜日ガール)
Discography
Singles
17/10/2012 : Koi no Tenki Youhou (恋の天気予報)
06/02/2013 : Koi wa Tokimeki Chuuihou (恋はトキメキ注意報)
05/06/2013 : Koi no Love♥Sunshine (恋のラブ♥サンシャイン)
20/11/2013 : Hey Boy ~Weishenme?~ (Hey Boy~ウェイシェンモ?~)
05/03/2014 : Tomorrow World
04/06/2014 : Like You ♡ Anyway
Albums
Links
News