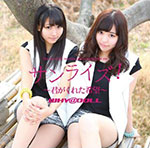 [email protected]'s new single Sunrise ~Kimi ga Kureta Kibou~ (サンライズ~君がくれた希望~) was released on January 21.

This is the 4th single from [email protected] 3 versions are available.
The MV has been released.
There is a version for each member including a bonus track by Uratani Haruna and Aoki Chiharu.
This CD is produced by Seishun Gakuen's producer Shun.
[email protected] are planning to make their major debut soon.
Tracklist
CD

Sunrise ~Kimi ga Kureta Kibou~ (サンライズ~君がくれた希望~)
First Love ☆ Killer Tune (初恋☆キラーチューン)
Sunrise ~Kimi ga Kureta Kibou~ (サンライズ!~君がくれた希望~) (Instrumental)
First Love ☆ Killer Tune (初恋☆キラーチューン) (Instrumental)
Music Video (PV)