Wi-Fi-5 is a Japanese idol group formed in 2017.
It currently consists of 5 members.
Biography / History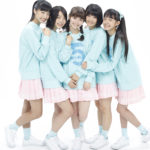 Wi-Fi-5 started their activities in October 2017.
The girls were selected among the finalists of the Miss iD 2017 and 2016 contests.
The members of Wi-Fi-5 have various nationalities.
Takano Nagisa, Sae and Shiratori Raimu are from Japan.
Tomiko Claire is American. She was born in San Francisco, USA.
Simon is Chinese. She grew up in Hunan province in China.
The idol group held its 1st live performance in October 2017.
Wi-Fi-5's 1st single Hajimari no College (始まりのカレッジ), released in November 2017, was the opening theme for the anime Elegant Yokai Apartment Life (妖怪アパートの幽雅な日常).
Their 2nd single Nyao! (にゃーお!), on sale in June 2018, is the theme song for the anime Chi's Sweet Adventure: Ponponra Dairyokou (こねこのチー ポンポンらー大旅) airing on TV Tokyo.
Wi-Fi-5 are going to participate in Japan Expo 2018 in Paris Nord Villepinte, France, in July.
Profile
Wi-Fi-5
Years active : 2017 – present
Label : –
Agency : Arutemate
Members
Takano Nagisa (高野渚)
Sae (紗英)
Tomiko Claire (トミコ クレア)
Simon (さぃもん)
Shiratori Raimu (白鳥来夢)
Discography
Singles
08/11/2017 : Hajimari no College (始まりのカレッジ)
06/06/2018 : Nyao! (にゃーお!)
Albums
Links
News