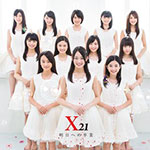 X21's new single Asu e no Sotsugyou (明日への卒業) will be released on March 19.
This is the debut single from X21.
The concept is "white". This color symbolizes the "purity" of the members of the idol unit.
The MV has been released. It includes a short introduction of each X21 senbatsu member.
The list of the 12 senbatsu members has been unveiled : Yohimoto Miyu, Ozawa Nanaka, Suenaga Mai, Izumikawa Miho, Nagao Mami, Tanaka Shuri, Komoriya Sakura, Igashira Manami, Wakayama Ayano, Shiratori Hasumi, Yamaki Koharu, Kaminaguchi Honoka.
The CD contains 2 songs and their instrumental versions. The title of the coupling track will hasn't been announced yet.
The limited edition comes with a A5-size photobook.
Tracklist
CD

Asu e no Sotsugyou (明日への卒業)
??
Asu e no Sotsugyou (明日への卒業) (Instrumental)
?? (Instrumental)

DVD

Asu e no Sotsugyou (明日への卒業) (Music Video)
Asu e no Sotsugyou (明日への卒業) (Off Shot Movie)

A5-size Photobook
Music Video (PV)