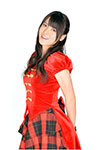 Yajima Maimi (°C-ute) will be starring in the stage play Hata-gumi vol.5 (秦組 vol.5) Taklamakan (タクラマカン).
Taklamakan will run from May 31 to June 10 at Owl Spot, Tokyo, and on June 11 at Sankei Hall Breeze, Osaka.
Yajima Maimi had previously performed in the stage plays Hata-gumi vol.3 Ran (らん) in 2010 and Hata-gumi vol.4 Ran ~2011 New Version~ (らん―2011New version!!―) in 2011.
Schedule
Date : 31/05/2013 – 10/06/2013
Venue : Owl Spot, Tokyo
Date : 11/06/2013
Venue : Sankei Hall Breeze, Osaka