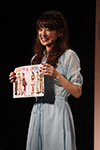 Yasaka Saori (Super☆Girls) will be starring in the musical Sabita ~Ame ga Hakonda Ai~ (サ・ビ・タ~雨が運んだ愛~).
Yasaka Saori will play the role of the heroine Yu Miri.
The play will run from March 20 to April 6, 2014 at Aoyama Round Theatre in Tokyo.
Sabita ~Ame ga Hakonda Ai~ was staged for the first time in 1995 in South Korea.
Yasaka Saori is the leader of Super☆Girls. The idol group will release 3 new singles on December 4.