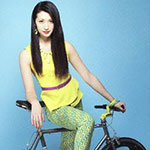 Yokoyama Rurika's 1st solo single Walk my Way will be released on June 19.
The regular editions include a different bonus track for each version.
The limited editions come with a DVD featuring either the music video or making-of footage, and a trading card randomly selected from 4 kinds.
Yokoyama Rurika, who is part of Idoling!!! for 6 years and a half, is the first member of the idol group to make a solo debut.
The single is produced by Maeyamada Kenichi, also known as Hyadain.
Regular Edition Type A
CD

Walk my Way
Eien ni Saku Hana (永遠に咲く花)
Machi no Akari (街のアカリ)
Walk my Way (Instrumental)
Eien ni Saku Hana (永遠に咲く花) (Instrumental)
Machi no Akari (街のアカリ) (Instrumental)
Regular Edition Type B
CD

Walk my Way
Eien ni Saku Hana (永遠に咲く花)
Don't Cry
Walk my Way (Instrumental)
Eien ni Saku Hana (永遠に咲く花) (Instrumental)
Don't Cry (Instrumental)
Limited Edition Type A
CD

Walk my Way
Eien ni Saku Hana (永遠に咲く花)
Walk my Way (Instrumental)
Eien ni Saku Hana (永遠に咲く花) (Instrumental)
DVD

Walk my Way (Music Video)
Limited Edition Type B
CD

Walk my Way
Eien ni Saku Hana (永遠に咲く花)
Walk my Way (Instrumental)
Eien ni Saku Hana (永遠に咲く花) (Instrumental)
DVD

Debut Single Making Video
Music Video
Video Message