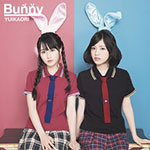 YuiKaori's 2nd album Bunny is released on October 23.
The album contains 12 songs, including YuiKaori's latest singles and 2 solo songs performed by Ogura Yui and Ishihara Kaori.
The limited edition includes a Blu-ray or a DVD with 4 music videos and making-of footage.
Check out the music video.
Furthermore, YuiKaori will hold a live performance on November 17 at Japan Education Center in Tokyo.
Tracklist
CD

Wake Up!! (ウェィカッ!!)
Kimi ga Sekai de Sekai wa Kimi de (君が世界で世界は君で)
Attouteki na Go!! (圧倒的な Go!!)
Blitzallies
In Wonderful Wonder (Ogura Yui)
Sunny Ray Beam!! (Ishihara Kaori)
Shiny Blue
Tsubasa ni Naru yo (翼になるよ)
Marble
Kimi no Yell (君のYell)
Jumpin' Bunny Flash
Hoshi Furu Yoru no Happy Link (星降る夜のハッピーリンク)
Blu-ray / DVD (Limited Edition)

Jumpin' Bunny Flash (Music Video)
Kimi no Yell (君のYell) (Music Video)
Wake Up!! (ウェィカッ!!) (Music Video)
Shiny Blue (Music Video)
Jumpin' Bunny Flash (Making-of)
Music Video (PV)