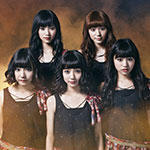 Yumemiru Adolescence's 1st album Dai Ichi Shishunki (第一思春期。) will be released on November 26th.
The album contains 13 songs including the latest singles from Yumemiru Adolescence and 2 new songs titled Stealth Bukai 25:00 (ステルス部会25:00) and Himitsu (秘密).
The MV has been unveiled.
The limited comes with a bonus DVD featuring all the music videos from YumeAdo.
Stealth Bukai 25:00 is produced by Agehasprings.
Jin Nakamura wrote the lyrics and composed the music of Himitsu. He worked with famous J-Pop artists such as Exile and Juju in the past.
Furthermore, Yumemiru Adolescence will hold YumeAdo Award 2014 (輝け!夢アドアワード2014) on December 29th at the Tokyo International Forum Hall C.
Tracklist
CD

Overture
Stealth Bukai 25:00 (ステルス部会25:00)
Mawaru Sekai (マワルセカイ)
Nakimushi Sniper (泣き虫スナイパ→)
Junjou Marionette (純情マリオネット)
Shoumei Teenager (証明ティンエジャー)
Zettaiteki Sympathy (絶対的シンパシー)
Candy-chan (キャンディちゃん)
Himawari Heart (ひまわりハート)
17;30 no Anime (17:30のアニメ)
Heroine (ヒロイン)
Dokonidemo Iru, Itatte Futsuu (どこにでもいる、至って普通)
Namida ga Derukurai, Tsutaetai Omoi (涙が出るくらい 伝えたい想い)
Jump!
Himitsu (秘密)
DVD

Nakimushi Sniper (泣き虫スナイパ→)
Junjou Marionette (純情マリオネット)
Mawaru Sekai (マワルセカイ)
Jump!
Shoumei Teenager (証明ティンエジャー)
Stealth Bukai 25:00 (ステルス部会25:00)
Music Video (PV)