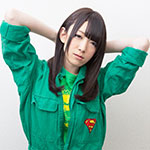 Yumikon left You'll Melt More! on last December. She had announced her graduation from the group on December 17 because of health problems.
Indeed, her graduation, obviously precipitated, was officially held on December 26 after a farewell concert. She thanked her fans for their support and her friend of You'll Melt More! and she particularly apologized to the public.
However Yumikon participated in the recording of the last EP of the group SUImin CIty DEstroyer released after her departure on December 31.
Yumikon had integrated You'll Melt More! at its formation in 2012 ; she is the third original member of the idol group to graduate. The group will continue its activities as a sextet.
A message of thanks from Yumikon was posted on the group's official website.
Furthermore, You'll Melt More! plan to release a new single Hamidasumo! on 25 March.