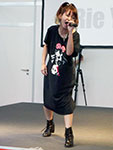 Yunohara Rie participated in Japan Expo 2015 in Paris Nord Villepinte, France, in early July.
Yunohara Rie (柚之原りえ) performed as a solo idol. Nevertheless, she is also a member of Phantom Voice feat. VK (ファントムボイス).
Check out the video and some photos of her live.
Japan Expo is the biggest convention dedicated to Japanese culture in Europe. The festival took place on July 2-5, 2015.
Yunohara Rie participated in the event because she reached the 3rd rank at a contest organised by Showroom.
Riecho performed on Welcome to Japan stage.
This was the second overseas live show of the Japanese idol after her performance at STGCC in Singapore in September 2014..
Video
Photos