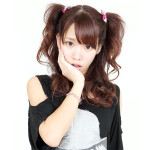 Yunohara Rie (柚之原りえ) is a Japanese idol and J-Pop singer.
She is also a member of Phantom Voice feat. VK (ファントムボイス)
Her nickame is Riecho.
Biography
Yunohara Rie was born on March 23 in Miyazaki Prefecture, Japan.
She moved to Tokyo in 2013 in order to become an artist.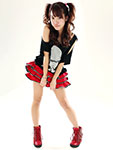 Riecho started her musical activities in the Spring of 2014.
She participated in STGCC (Singapore Toy, Game & Comic Convention) in Singapore in September 2014.
Yunohara Rie's 1st single Yureru Yumemiru Koi no Round / Hoshikuzu Drive (揺れる夢みる恋のRound / 星屑ドライヴ) was released in December 2014.
She held her 1st one-man live in the beginning of 2015 at Shibuya Amrax. 100 people attended the event.
Yunohara Rie joined Phantom Voice feat. VK in April 2015.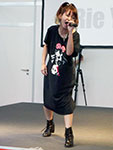 She performed in Japan Expo 2015 in Paris Nord Villepinte, France, in July 2015. Check out our photos and videos of the event.
Her image color is red.
Profile
Yunohara Rie (柚之原りえ)
Birthdate : 24/03
Birthplace : Miyazaki, Japan
Years active : 2014 – present
Label : –
Agency : –
Discography
Singles
02/12/2014 : Yureru Yumemiru Koi no Round / Hoshikuzu Drive (揺れる夢みる恋のRound / 星屑ドライヴ)
Mini-Albums
Albums
Links
News