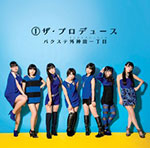 Le nouvel album des Bakusute Sotokanda Icchome (1) The Produce ((1)ザ・プロデュース) sortira le 29 janvier.
This is the 1st album from Bakusute Sotokanda Icchome. 4 editions are available.
(1) The Produce ((1)ザ・プロデュース) contient 13 titres dont les chansons les plus populaires interprétées chaque jour par le groupe d'idols au Akihabara Backstage Pass, et de nouvelles chantées par 3 sous-groupes.
Les éditions limitées sont accompagnées d'un DVD avec des vidéos bonus ou d'un mini photobook.
Tracklist
CD

Baito Fighter (バイトファイター)
Produce (プロデュース)
Yoropiku Pikuyoro! (ヨロピク ピクヨロ!)
Bishoujo Mokushiroku (美少女黙示録)
Oh my Destiny
Douse Osarenai (どうせ推されない)
Girls Talk (ガールズトーク)
KiraKira My Heart
Miracle no Hiketsu (ミラクルの秘訣)
Happy! Kyou wa Nandaka Isogashi? (Happy!今日は何だか忙し?)
Backstage Pass no Theme ~Oshi wa Kimisa~ (バックステージpassのテーマ~推しはキミさ~)
Tobidate! Starship (飛び立て!スターシップ
Aiya Papaya (アイヤ パパイヤ)
DVD (Type A)

Choushi Bukkoki Matsuri 2013 Aki Tour in Nagoya Digest (調子ブッコキ祭り2013秋ツアー in名古屋ダイジェスト)
DVD (Type B)

1st Album Kansei Made no Document ~Kashou Member Happyou Kara Recording Made~ (1stアルバム完成までのドキュメント~歌唱メンバー発表からレコーディングまで~)