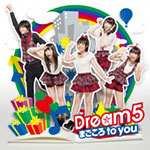 Le 1er album des Dream5 Magokoro to You (まごころ to you) sortira le 20 novembre.
L'album contient 15 chansons, dont 6 nouvelles, interprétées par les Dream5 depuis les débuts du groupe d'idols il y a 4 ans.
2 éditions CD+DVD, intitulées « music video » et « live », sont disponibles. La première inclut 10 clips. La seconde contient une vidéo du concert des Dream5 qui s'est déroulé le 5 avril 2013 au Mt. Rainier Hall Shibuya Pleasure Pleasure.
L'édition CD comporte un titre bonus.
Tracklist
CD

We Are Dreamer
Minna de Te wo Tsunagou (みんなで手をつなごう)
Doremifa Sorairo (ドレミファソライロ)
Kitto Zutto Happy! (きっとずっとHappy!)
Come On!
Janken Pon! ( じゃんけんPon!)
Shekimeki (シェキメキ)
Go my Way!
Never Give Up!
I★My★Me★Mine
Ready Go!!
Hop! Step! Dance (Hop! Step! ダンス↑↑)
Pararirura (パラリルラ♪)
EZ Do Dance
Yozora wo Koete (夜空をこえて)
Shigemon Ondo (しげもん音頭) (CD only Edition)
DVD (Music Video Ver.)

We Are Dreamer
Minna de Te wo Tsunagou (みんなで手をつなごう)
Doremifa Sorairo (ドレミファソライロ)
Come On!
Shekimeki (シェキメキ)
I★My★Me★Mine
Ready Go!!
Hop! Step! Dance (Hop! Step! ダンス↑↑)
Pararirura (パラリルラ♪)
EZ Do Dance
DVD (Live Ver.)

EZ Do Dance
Come On!
Ready Go!!
Medley (Like & Peace! / Kira Kira Everyday / I★My★Me★Mine)
Doremifa Sorairo (ドレミファソライロ)
Dance Performance Part 2-3 (ダンスパフォーマンスPart2~3)
Hop! Step! Dance (Hop! Step! ダンス↑↑)
I Don't Obey ~Bokura no Pride~ (I Don't Obey ~僕らのプライド~)
Shekimeki (シェキメキ)- Encore –
Arigatou ~Kimi ni Todoketai Melody~ (ありがとう ~君に届けたいMelody~)
Bokura no Natsu!! (僕らのナツ!!)
Crazy Gonna Crazy
PV