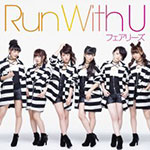 Le nouveau single des Fairies Run with U sortira le 19 février.
Il s'agit du 7e single des Fairies. C'est une chanson décrite comme énergique. Minami Sasuga a été en charge de la chorégraphie.
Le clip et la vidéo de la répétition de la chorégraphie ont été dévoilés.
Run with U est la chanson thème de l'anime Jewel Pet Happiness (ジュエルペットハッピネス) diffusé sur TV Tokyo Network (テレビ東京系).
L'édition normale contient un titre supplémentaire.
L'édition limitée inclut un DVD avec le clip et des vidéos bonus.
Ce single est accompagné de la photo de l'une des membre des Fairies sélectionnée aléatoirement parmi 12 modèles.
Tracklist
Edition normale

CD

Run with U
Silly Boy
Wild Baby
Run with U (Instrumental)
Silly Boy (Instrumental)
Wild Baby (Instrumental)
Edition limitée

CD

Run with U
Silly Boy
Run with U (Instrumental)
Silly Boy (Instrumental)

DVD

Run With U (Music Video)
Bonus footage (特典映像)
Clip Vidéo (MV)