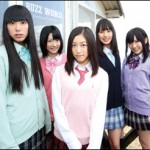 Le 8e single des Hime Kyun Fruit Can Buzzword (バズワード) sortira le 27 mars.
Le CD contient 3 chansons différentes.
Le clip vidéo a également été dévoilé.
Les Hime Kyun Fruit Can vont également se produire en concert lors de la tournée HimeKyun Idoroll Tour 2013 Scene of the Youth du 2 mars au 21 avril.
Tracklist
Buzzword (バズワード)
Mister A (ミスターA)
Yume Sakura (夢桜)
Hime Kyun Fruit Can – Buzzword (PV)