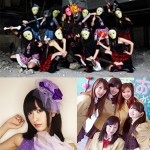 Kotone Mai, les Alice Juban, les Angel Generation, et d'autres artistes participeront au live Idol☆Universe in Niigata Vol.4.
Le concert aura lieu le 11 novembre à The Planet à Niigata.
Calendrier
Date : 11/11/2012
Heure : 17:00
Lieu : Live Space The Planet, Niigata
Idols :

Kotone Mai
Alice Juban
Angel Generation
etc.