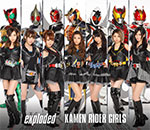 Le 2nd album des Kamen Rider Girls Exploded will be sortira le 19 mars.
Le CD contient 14 chansons dont leurs derniers singles Go get 'em, SSS ~Shock Shocker Shockest~, and E-X-A.
Kamen Rider Girls est le groupe féminin officiel de la fameuse série Kamen Rider (仮面ライダー).
Le trailer de l'album a été dévoilé.
3 versions sont disponibles. Les titres bonus sont différents pour chacune d'entre elles.
L'édition Type A est accompagnée de 2 DVD contenant 10 clips vidéos.
L'édition Type B inclut une vidéo du live des Kamen Rider Girls au Shibuya WWW.
D'autre part, le groupe va interpréter Break the Shell which qui est la chanson thème du jeu vidéo Kamen Rider Battride War II (仮面ライダー バトライド・ウォーⅡ) sur PS3 / Wii U.
Tracklist
Type A
CD

exploded
Warning! Burning!
E-X-A (Exciting × Attitude)
Toki no Hana (時の華)
Atomic Girl
Go get 'em
Days! (デイズ!)
Primary colors
Climax Jump Erica form
SSS ~Shock Shocker Shockest~
Mission Complete
Overdrive Generation
L.U.V. ~Love Under Virginia~
– Bonus Track –
Mitei (未定)
Days! (デイズ!) (Nagura Kaori ver.)
Primary colors (Endo Mitsuki ver.)

DVD
Type B
CD

exploded
Warning! Burning!
E-X-A (Exciting × Attitude)
Toki no Hana (時の華)
Atomic Girl
Go get 'em
Days! (デイズ!)
Primary colors
Climax Jump Erica form
SSS ~Shock Shocker Shockest~
Mission Complete
Overdrive Generation
L.U.V. ~Love Under Virginia~
– Bonus Track –
Mitei (未定)
Days! (デイズ!) (Isaka Hitomi ver.)
feeling… (Primary colors rewriting by Akita Chisato ver.)

DVD

Kamen Rider Girls Live at Shibuya WWW
Type C
CD

exploded
Warning! Burning!
E-X-A (Exciting × Attitude)
Toki no Hana (時の華)
Atomic Girl
Go get 'em
Days! (デイズ!)
Primary colors
Climax Jump Erica form
SSS ~Shock Shocker Shockest~
Mission Complete
Overdrive Generation
L.U.V. ~Love Under Virginia~
– Bonus Track –
Mitei (未定)
Days! (デイズ!) (Yasuda Nao ver.)
Kaerimichi (帰り道) (Primary colors rewriting by Sumi Tomomi Jiena ver.)
Trailer