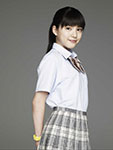 Kawashima Umika (9nine) va jouer dans le drama Pin to Kona (ぴんとこな).
Pin to Kona est basé sur le manga shoujo du même nom écriit par Shimaki Ako et publié dans le magazine mensuel Cheese!.
Le drama sera diffusé chaque jeud soir à 21h sur TBS à partir du mois de juillet.
Tamamori Yuta (Kis-My-Ft2), Nakayama Yuma (NYC), Matsumura Hokuto and Jesse (Johnny's Jr) joueront également dans la série.