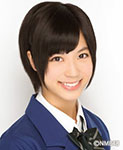 Koyanagi Arisa a annoncé sa graduation des NMB48.
Elle a déclaré qu'elle souhaitait poursuivre sa carrière dans l'industrie de la mode et des vêtements.
The date of her graduation ceremony hasn't been determined yet.
Koyanagi Arisa joined NMB48 as a 1st generation member in 2011. She is part of Team M since October 2012.