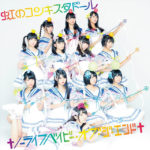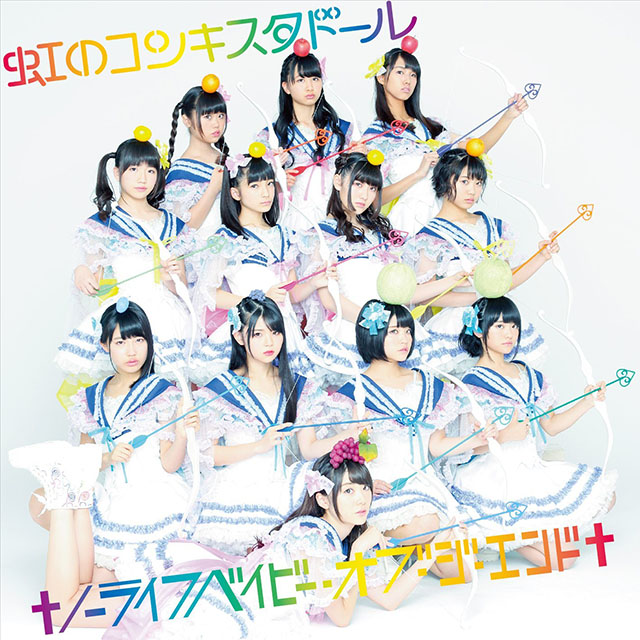 Les Niji no Conquistador ont sorti leur DVD single intitulé † No Life Baby of the End † (†ノーライフベイビー・オブ・ジ・エンド†) le 26 avril.
Il s'agit du 1er single major du groupe d'idols également connu sous le nom de Nijicon ; il est sorti sous le label King Records.
Découvrez le clip vidéo ci-dessous.
La chanson sera utilisée comme bande originale du film d'horreur Hijiri Zombie Jogakuin. Les actrices principales du film seront les membres des Niji no Conquistador et le film sortira en salles en début d'été prochain.
Le DVD de l'édition régulière contient le clip vidéo, son making-of et sa version live.
Le CD de cette édition est également en vente. Il ne contient que la chanson titre et sa version instrumentale.
Les DVD des éditions limitée dites « colorées » contiennent chacun une liste de vidéos différente.
Tracklist
DVD de l'édition normale

† No Life Baby of the End † (Music Video)
† No Life Baby of the End † (0109 LIVE ~CLUB CITTA~ver.)
† No Life Baby of the End † (MV Making Of)
CD

† No Life Baby of the End † (ノーライフベイビー・オブ・ジ・エンド)
† No Life Baby of the End † (Off vocal)
DVD de l'édition Aka

† No Life Baby of the End † (Music Video)
Paradise na Kataomoi (0109 LIVE ~CLUB CITTA~ver.)
Denko Sekka, Natsu Hanabi (0109 LIVE ~CLUB CITTA~ver.)
DVD de l'édition Daida

† No Life Baby of the End † (Music Video)
Senjo no Sei Valentine (0109 LIVE~CLUB CITTA~ver.)
Yarukkyanai! 2015 (0109 LIVE~CLUB CITTA~ver.)
DVD de l'édition Ki

† No Life Baby of the End † (Music Video)
Retoruto ~Kareinaru Ai~ (0109 LIVE~CLUB CITTA~ver.)
Burand New Happy Days (0109 LIVE~CLUB CITTA~ver.)
DVD de l'édition Midori

† No Life Baby of the End † (Music Video)
LOVE men Koi Ajiya wa me (0109 LIVE~CLUB CITTA~ver.)
Pikushibu Ondo (0109 LIVE~CLUB CITTA~ver.)
DVD de l'édition Ao

† No Life Baby of the End † (Music Video)
Triangle Dreamer (0109 LIVE~CLUB CITTA~ver.)
Kiseki 100% (0109 LIVE~CLUB CITTA~ver.)
DVD de l'édition Ai

† No Life Baby of the End † (Music Video)
Paradoxical Complex (0109 LIVE~CLUB CITTA~ver.)
Dai Kirai Deshita(0109 LIVE~CLUB CITTA~ver.)
DVD de l'édition Murasaki

† No Life Baby of the End † (Music Video)
Kimi no Kimochi Oshiete (0109 LIVE~CLUB CITTA~ver.)
Watashiji, Mahou Shoujo (0109 LIVE~CLUB CITTA~ver.)
Clip Vidéo (MV)