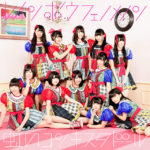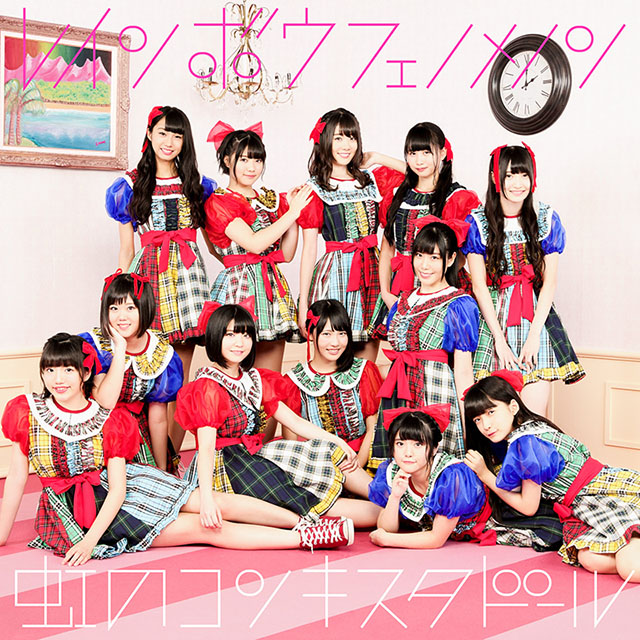 Les Niji no Conquistador ont sorti leur nouvel album Rainbow Phenomenon (レインボウフェノメノン) le 10 janvier.
C'est le 3e album des Niji no Conquistador, également connues sous le nom de NijiCon.
L'album contiendra au total 12 chansons. Vous pouvez retrouver les derniers singles major du groupe : † No Life Baby of the End † et Kimi wa Mujakina Natsu no Jou / Jump / Natsu no Yoru wa Mijika Sugiru Kedo….
L'album est vendu en 3 éditions.
Les DVD des éditions limitées contiendront des clips vidéos et un making-of.
Vous pouvez visionner le clip vidéo de la nouvelle chanson Futari no Spur ci-dessous.
Tracklist
CD

overture
Kimi wa Mujakina Natsu no Jou ~This Summer Girl Is an Innocent Mistress~ (キミは無邪気な夏の女王~This Summer Girl Is an Innocent Mistress~)
† No Life Baby of the End † (†ノーライフベイビー・オブ・ジ・エンド†)
chaos and creation
Retort ~Kareinaru Ai~ (レトルト~華麗なる愛~)
LOVE men Koi Ajiya wa me (LOVE麺 恋味 やわめ)
Natsu no Yoru wa Mijika Sugiru Kedo… (夏の夜は短すぎるけど…)
Mayonaka no Telephone (Ao Gumi) (真夜中のテレフォン(青組))
Koi no Prelude (Niji Gumi) (恋のプレリュード(虹組))
Futari no Spur (ふたりのシュプール)
Jump! (じゃんぷ!)
† No Life Baby of the End † (desperate ver.)
Edition limitée « Winter Castle »

LOVE men Koi Ajiya wa me (Music Video)
† No Life Baby of the End † (Music Video)
Futari no Spur (Music Video)
Futari no Spur (Making of MV)
Edition limitée « Summer Edition »

Retort ~Kareinaru Ai~ (Music Video)
Kimi wa Mujakina Natsu no Jou ~This Summer Girl Is an Innocent Mistress~ (Music Video)
Jump! (Music Video)
Natsunoyo wa Mijika Sugirukedo… (Music Video)
Clip Vidéo (MV)