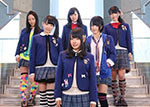 Le film NMB48 Geinin The Movie Owarai Seishun Girls! (NMB48 げいにん! The Movie お笑い青春ガールズ!) sortira dans les cinémas japonais le 1er août.
Comme son titre l'indique, le film est basé sur le show TV NMB48 Geinin diffusé sur Nippon Television (NTV). Dans l'émission, les membres NMB telles que Yamamoto Sayaka ou Watanabe Miyuki jouent le rôle des membres d'un club de comédie à l'école Namba Girls School (なんば女学院).
Découvrez la bande-annonce.
Le film a été diffusé en avant-première en mars lors du 5e Festival International du Film d'Okinawa (沖縄国際映画祭).
Il a été réalisé par Uchida Hidemi.
NMB48 Geinin! The Movie Owarai Seishun Girls! sortira en DVD le 23 avril 2014.
Bande-annonce