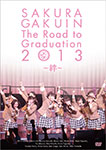 Le concert Sakura Gakuin The Road to Graduation 2013 sortira en DVD le 23 juillet.
Les Sakura Gakuin et leurs sous-groupes Pastel Wind, Mini-Patissier et Kyuumei Kikou Logica? ont participé à ce live.
Il inclut la cérémonie de graduation de Horiuchi Marina, Iida Raura, Sugisaki Nene, et Sato Hinata.
La vidéo du trailer a été dévoilée.
Le concert a eu lieu le 28 mars 2014 au Shibuya-AX à Tokyo.
Le coffret DVD inclut 2 disques.
De plus, le 4e album des du groupe d'idols Sakura Gakuin 2013 Nendo ~Kizuna~ est en vente depuis le 12 mars.
Setlist
Disc 1 : The Road to Graduation 2013 ~Houkago Anthology Minna de Wasshoi!~ (~放課後アンソロジーみんなでわっしょい!~)

Time (チャイム)
Hana*Hana
Ganbare!! (顔笑れ!!)
Fly Away
Otomegokoro (オトメゴコロ。)
Wonderful Journey
Makeruna! Seishun Hizakozou (負けるな! 青春ヒザコゾウ)
Capsule Scope
Magic Melody
Marshmallow Iro no Kimi to (マシュマロ色の君と)
Friends
Mikansei Silhouette (未完成シルエット)
13. Jump Up ~Chiisana Yuuki~ (Jump Up ~小さな勇気~)
Disc 2 : The Road to Graduation Final ~Sakura Gakuin 2013 Nendo Sotsugyou~ (~さくら学院 2013年度卒業~)

School days
Mezase! Superlady -2013- (目指せ!スーパーレディー -2013年度-)
Makeruna! Seishun Hizakozou (負けるな! 青春ヒザコゾウ)
Verishuvi (ベリシュビッッ)
Scoreboard ni Love ga Aru (スコアボードにラブがある) / Pastel Wind
Yosouijou no Smash (予想以上のスマッシュ) / Pastel Wind
Kagaku-bu Kagaku Kyuumei Kikou Logica? ~Special Medley (科学部 科学究明機構ロヂカ?~Special Medley~) / Kagaku Kyuumei Kikou Logica?
Acha! Cha! Curry (あちゃ!ちゃ!カリー) (Mini-Patissier
Shanari w(しゃなりはんなりどら焼き姫) / Mini-Patissier
Friends ~Unplugged 2013~
Mikansei Silhouette (未完成シルエット)
I・J・I
Sleep Wonder (スリープワンダー)
My Graduation Toss
Jump Up ~Chiisana Yuuki~ (Jump Up ~ちいさな勇気~)
message
~Sakura Gakuin 2013 Graduation Ceremony~ (~さくら学院 2013年度 卒業式~)
Tabidachi no Hi ni (旅立ちの日に) ~J-Mix 2013~
Yume no Muka (夢に向かっ)
Trailer (Vidéo)