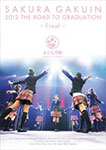 Les Sakura Gakuin vont sortir le DVD du live The Road to Graduation Final ~Sakura Gakuin 2012 Nendo Sotsugyou~ (~さくら学院 2012年度 卒業~) le 3 juillet.
Le DVD contient les 17 chansons interprétées par les Sakura Gakuin et ses sous-groupes dont les Babymetal.
Le concert a eu lieu le 31 mars au Tokyo International Forum.
La cérémonie de graduation de Nakamoto Suzuka et Sugimoto Mariri et s'est déroulée lors de cet évènement. L'ancienne leader aussi chanté un titre en solo.
Setlist
Mezase! Superlady (目指せ!スーパーレディー)
Planet Episode 008
Verishuvi (ベリシュビッッ)
Suimen Fusoku (すいみん不足) / Go Home Club sleepiece
Miracle ♪ Pattyful ♪ Hamburger (ミラクル♪パティフル♪ハンバーガー) / Cooking Club Mini-Patissier
Science Girl ▽ Science Boy (サイエンスガール ▽ サイエンスボーイ) / Science Club Kagaku Kyumei Kiko Logica?
Yume wo Hodoku Riron (ユメ解く理論) / Science Club Kagaku Kyumei Kiko Logica?
Headbanger!! (ヘドバンギャー!!) / Heavy Music Club Babymetal
Scoreboard ni Love ga Aru (スコアボードにラブがある) / Tennis Club Pastel Wind
Sakurairo no Avenue (桜色のアベニュー) ~from Suzuka~ / Nakamoto Suzuka
Wonderful Journey
Sleep Wonder (スリープワンダー)
School Days
Friends
Yume ni Mukatte (夢に向かって)- 2012 Nendo Graduation Ceremony (2012年度卒業式) –

– Encore –

Tabidachi no Hi ni (旅立ちの日に) ~J-Mix 2012~
My Graduation Toss