Les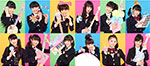 Sakura Gakuin se produiront lors d'une série de concerts intitulée The Road to Graduation du 16 février au 31 mars.
Les concerts auront lieu à Tokyo.
Le 5e single des Sakura Gakuin My Graduation Toss sortira le 27 février.
La leader Nakamoto Suzuka quittera le groupe après le live final.
Sakura Gakuin – The Road to Graduation III ~Happy Valentine Thank you for your Smile~
Date : 16/02/2013
Heure : 15:00 / 18:30
Lieu : Shimokitazawa Garden, Tokyo
Sakura Gakuin – The Road to Graduation II ~Kiritsu! Ki wo Tsuke! Let's☆Standing~
(さくら学院「The Road to Graduation II ~起立! 気をつけ! レッツ☆スタンディング~」)
Date : 17/02/2013
Heure : 15:00 / 18:30
Lieu : Kichijoji Club Seata, Tokyo
Sakura Gakuin – The Road to Graduation I ~2012 Nendo Sakura Gakuin Houkago Anthology Live the Party~
(さくら学院「The Road to Graduation I ~2012年度 さくら学院 放課後アンソロジー Live The Party~」)
Date : 29/03/2013
Heure : –
Lieu : Shibuya Club Quattro, Tokyo
Sakura Gakuin – The Road to Graduation Final ~Sakura Gakuin 2012 Nendo Sotsugyou~
(さくら学院「The Road to Graduation Final ~さくら学院 2012年度 卒業~」)
Date : 31/03/2013
Heure : –
Lieu : Tokyo International Forum