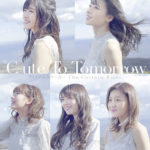 Les °C-ute sortiront leur dernier single To Tomorrow / Final Squall / The Curtain Rises (To Tomorrow / ファイナルスコール / The Curtain Rises) le 29 mars.
Il s'agit du 31e single major des °C-ute et leur 36e au total. Mais c'est également leur dernier avant leur prochaine séparation et graduation en juin.
Les clips vidéos des 3 chansons ont été dévoilés.