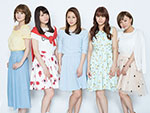 The Possible changera son nom pour Ciao Bella Cinquetti (チャオ ベッラ チンクエッティ) le 8 juillet.
The Possible va célébrer son 10e anniversaire en août. A l'occasion de cet événement, les membres du groupe d'idols voulaient montrer leur évolution maintenant qu'elles sont devenues adultes.
Comme vous l'avez peut-être deviné, Ciao Bella Cinquetti est un nom d'origine italiene.
Le groupe d'idols sera appelé par ce nom sur son prochain single Omotesando / Futakotamagawa / Never Never Give Up (表参道 / 二子玉川 / NeverNeverGiveUp) qui va sortir le 8 juillet.