Le DVD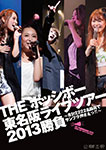 The Possible Tokyo Osaka Nagoya Live Tour 2013 (The ポッシボー 東名阪ライブツアー勝負) est sorti le 23 octobre.
Le concert s'est déroulé le 11 août au Yokohama Blitz. Il inclut des vidéos bonus et une partie du live qui a eu lieu le 18 août à Osaka.
Les Nice Girl Trainees ont aussi participé au concert.
Ce DVD est une édition limitée disponible exclusivement sur le TNX Online Shop et aux lives de The Possible.
D'autre part, le dernier single de The Possible Otome! Be Ambitious (乙女!Be Ambitious) est en vente depuis le 11 septembre.
Setlist
Opening SE
Ribon (りぼん)
Do Me! Do!
Nanja Korya?! (なんじゃこりゃ?!)
Ijiwaru Crazy Love (いじわる Crazy love)
Nasty!
Aishite Give Me (愛して Give Me)
Yuuki Super Ball! (勇気スーパーボール!)
Yabe~Nabe~na Atsuryoku be ~Na~ (やべ~なべ~な 圧力ベ~ナ~)
Hatsumei Bijin to Pineapple (発明美人とパインナッポー)(Nice Girl Trainees)
Yaruki Konjou Iroke mo Sukoshi Kore ga wa Watashi Jishin (やる気 根性 色気も少し これが私自身) (Nice Girl Trainees)
Otome! Be Ambitious! (乙女! Be Ambitious!)
Koi ga Dancin'! (恋がダンシン!)
Zenryoku de Aishite… ne! (全力で愛して…ねッ!)
Kibou to Seishun no Hikari (希望と青春のヒカリ)
Sakura (さくら)
Family ~Tabidachi no Asa~ (Family~旅立ちの朝~)
Eien Fireball (永遠ファイヤーボール)
Saa Koi! Happiness! (さぁ来い!ハピネス!)
Sakurairo no Romantic (桜色のロマンチック)
Zenryoku Banzai! My Glory! (全力バンザーイ!My Glory!)
– Encore –
Wasuretachi Shirande! Shark Morotsuka (忘れたら知らんで!シャーク諸塚)
Young Days!! (ヤング Days!!)
Good Night Song
– Bonus –
Douin Kazu Happyou (動員数発表)
Denkousekka Baby! (電光石火 Baby!)