Le DVD live des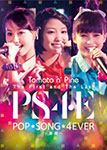 Tomato n' Pine The First and the Last Pop Song 4ever (PS4E) ~散開~ sortirale 24 avril.
Le DVD contient le dernier concert des Tomapai qui a eu lieu le 29 décembre 2012 au Nishi-Azabu Eleven de Tokyo. Il inclut les 18 chansons interprétées pendant le live, dont leurs principaux titres.
Il est accompagné d'un photobook de 48 pages en bonus.
Les Tomato n' Pine se sont séparées après 3 ans et demi d'activité à l'issue de cet ultime évènement.
Setlist
10-gatsu no Indian (10月のインディアン)
Nagisa ni Matsuwaru Et Cetera (渚にまつわるエトセトラ)
Nanairo☆Namida (なないろ☆ナミダ)
Yume no Kakera… (夢ノカケラ…)
Train Scatting
FAB (Free As a Bird)
Soshite Neru Mamonaku Solitude (SNS) (そして寝る間もなくソリチュード(SNS))
Daiji na Love Letter (大事なラブレター)
Jingle Girl Joui Jidai (ジングルガール上位時代)
Tameiki, Ocarina, Hora Neko ga Warau (ためいき、オカリナ、ほら猫が笑う。)
Yuki ga Furu Kara… (雪がふるから…)
Tameiki wa Pink (ためいきはピンク)
Odore Carnaval (踊れカルナヴァル)
Pop Song 2 U / Kumanbachi Remix
Captain wa Kimi Da! (キャプテンは君だ!)
Wanna Dance! (ワナダンス!)
Life is so Beautiful
Tabidachi Transfer (旅立ちトランスファー)