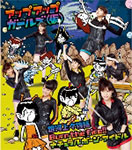 Le nouveau single des Up Up Girls Ginga Joujou Monogatari / Burn the Fire!! / Natural Born Idol (銀河上々物語/Burn the fire!!/ナチュラルボーン・アイドル) sortira le 5 juin.
Il s'agit d'un single avec triple face A. Il contient 3 chansons ainsi que leurs versions instrumentales.
Ce sera le 5e single des Up Up Girls sous le label T-Palette Records.
Les chansons ont été écrites par Nobe et composées par Michitomo.
Tracklist
Ginga Joujou Monogatari (銀河上々物語)
Burn the Fire!!
Natural Born Idol (ナチュラルボーン・アイドル)
Ginga Joujou Monogatari (銀河上々物語) (Instrumental)
Burn the Fire!! (Instrumental)
Natural Born Idol (ナチュラルボーン・アイドル) (Instrumental)
Vidéo (Live)