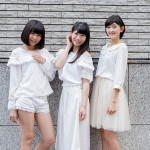 Hachikin Girls (はちきんガールズ) is a Japanese idol group formed in February 2010.
It currently consists of 3 members.
The idol unit is based in Kochi Prefecture.
"Hachikin" (はちきん) is a word used to describe strong and independent women in Tosa dialect spoken in Kochi.
The leader is Ishikawa Ayaka.
Biography / History

At its creation, Hachikin Girls was consisting of 5 members selected among the  cheerleading units Papillons (パピヨンズ) and CuRu CuRu (クルクル) which are supporting the local baseball team Kochi Fighting Dogs (高知ファイティングドッグス).
In June 2010, Kawamura Ayano became PR ambassador to promote the tourism in Kochi Prefecture and participated in several live events across Japan along with the idol group.
Hachikin Girls won a special prize at U.M.U Award 2010.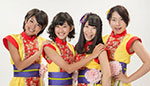 Each member opened her own blog in December 2011.
In 2012, the girls expanded their activities as Kochi PR ambassador to other prefectures. They have also started performing solo songs.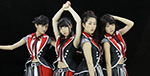 Hachikin Girls released their debut single Tomodachi no Mama Da yo (友達のままだよ) in June 2012.
Hirata Iria left the idol group in October 2014 in order to study abroad at Oxford University in England during 6 months.
Unfortunalely, Hirata Iria didn't come back to the unit after this period, and she announced her graduation. Nevertheless, she wrote the English lyrics for the coupling song Try! Try! Try! from Hachikin Girls' single Ame no Screen (雨のスクリーン) on sale in October 2015.
A photo exhibition was held at Nakano Broadway in October 2015 to commemorate the 5th anniversary of the idol group.
Profile
Hachikin Girls (はちきんガールズ)
Years active : 2010 – present
Label : JCM
Agency : Horizon Japan Associates
Members
Ishikawa Ayaka (石川彩楓)
Kajihara Hinako (梶原妃菜子)
Kawamura Ayano (川村あやの)
Former Members
Yamasaki Haruna (山崎はるな)
Yamasaki Wakana (山崎わかな)
Yamada Sayaka (山田彩)
Rissen Airi (立仙愛理)
Fujihara Aira (藤原愛良)
Kawamura Fuki (川村蕗)
Hamada Shino (濱田紫乃)
Hirata Iria (平田伊梨亜)
Discography
Singles
02/06/2012 : Tomodachi no Mama Da yo (友達のままだよ)
27/07/2012 : Shogeteru Kimi ni Sachiare (しょげてるキミに幸あれ)
24/04/2013 : Makenai Chikara (負けないチカラ)
07/08/2013 : Nihon Rettou Yume Zensen (日本列島夢前線)
04/12/2013 : Henshin Da! (変身ダーッ!)
12/02/2014 : Bouken Hajimaru (冒険はじまる。)
24/09/2014 : Itsuwari no Tengoku wa Iranai (偽りの天国はイラナイ)
21/10/2015 : Ame no Screen (雨のスクリーン)
Albums
Links
News