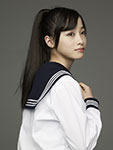 Hashimoto Kanna's 1st photobook Little Star ~Kanna 15~ will be released on November 14th.
The DVD and Blu-ray editions will be on sale on February 3rd.
Hashimoto Kanna is a popular idol and a member of Rev. from DVL. She is known as the "too angelic idol that we can find only once in a thousand years".
Check out some pictures from the photobook.
The photos were taken by Leslie Kee.
Hashimoto Kanna is wearing various outfits such as school uniform, yukata, wedding dress. The shooting took place at an amusement part, in a Japanese-style room, on the beach…
Hashimoto Kanna said that she wanted to show a new side of herself. She added that the wedding dress was a surprise for her parents as she hadn't told them anything about it.
The book has 80 pages.