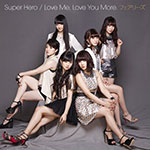 Le nouveau single des Fairies Super Hero / Love Me, Love You More sortira le 28 mai.
C'est le 8e single des Fairies. Il comporte une double face A.
Le clip vidéo a été dévoilé.
En juin, Super Hero sera la musique de l'ending de l'émission de divertissement Uchi Kuru!? Come to my « Home Sweet Home » (ウチくる!?) diffusée sur Fuji TV.
Love Me, Love You More est la chanson thème de l'anime Yuuto-kun ga Iku, the Movie (劇場版 ゆうとくんがいく) qui sera diffusé exclusivement dans les cinémas du groupe Aeon Cinema (イオンシネマ) à partir du 31 mai. Le trailer a été dévoilé.
L'édition CD+DVD inclut un disque bonus contenant le clip vidéo et le making-of.
Les éditions first press sont accompagnées de la photo de l'une des membres des Fairies sélectionnée aléatoirement parmi 12 modèles.
D'autre part, les Fairies se produiront en tournée au mois d'août. Les concerts auront lieu à Tokyo, Nagoya et Osaka.
Tracklist
CD

Super Hero
Love Me, Love You More
Super Hero (Instrumental)
Love Me, Love You More (Instrumental)
DVD

Love Me -Video Clip-
Love Me -Making-
Clip Vidéo (MV)