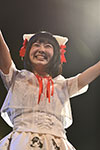 Izukoneko 2nd one-man Live Neko to Kemuri to Akai Curtain (猫と煙と赤いカーテン) sortira en DVD le 25 juin.
Le 2nd Live de Izukoneko s'est déroulé le 4 novembre 2013 au Tokyo Kinema Club.
Découvrez une vidéo et quelques photos de l'évènement
Izukoneko a interprété 18 chansons au cours du concert. L'idol était accompagnée par des musiciens.
Ce DVD est une édition limitée. Seulement 1.000 copies ont été mises en vente.
Setlist
end
straight
white clock
faketown
motel
e.c.i.n
rainy irony
jupiter girl
hair cat dance
squall cut
e.c.l.s
nostalgie el
last cat factory
BluE
– Encore 1 –
white clock
e.c.i.n
– Encore 2 –
e.c.i.n
BluE
Vidéo
Photos