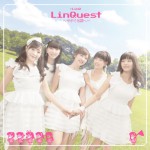 Le nouveau single des LinQ LinQuest ~Yagate Densetsu e… (~やがて伝説へ・・・ ) sortira le 9 septembre.
Il s'agit du 7e single du groupe d'idols de Kyushu, et du 3e produit par Maeyamada Kenichi surnommé Hyadain.
Le clip vidéo a été révélé.
Takaki Yuumi, Yoshikawa Chiaki, Araki Sakura, Amano Natsu et Sakai Asaka apparaissent sur la pochette de l'édition normale.
L'édition limitée inclut un DVD bonus comportant des vidéos de la tournée LinQ Lady Super Live Tour 2014.
De plus, le concert LinQ 4th Anniversary ~Welcome to the LinQworld!!~ sera mis en vente en DVD et en Blu-ray à la même date. L'événement a eu lieu le 18 avril 2015 au Zepp Fukuoka. Découvrez le trailer ci-dessous.
Tracklist
Edition normale

CD

LinQuest ~Yagate Densetsu e… (LinQuest~やがて伝説へ・・・ )
I, Screamin' (アイ、スクリーミン。)
LinQuest ~Yagate Densetsu e… (Instrumental)
I, Screamin' (Instrumental)
Edition limitée

CD

LinQuest ~Yagate Densetsu e…
Jump Jump Jump!
LinQuest ~Yagate Densetsu e… (Instrumental)
Jump Jump Jump! (Instrumental)

DVD
LinQ Lady Super Live Tour 2014

LinQ Theme (Club Night Remix)
Going my Way! (Shinta Planet Remix)
Egao ni LinQ! (笑顔にLinQ)
Te wo Tsunaide (手をつないで)
Makenai Girls (マケナイガールズ)
Let's Feel Together
Bye-bye Baby Love
My Letter
Clip Vidéo (MV)
Live (Digest)