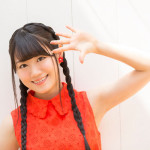 Le nouveau single de Ogura Yui High Touch Memory (ハイタッチ☆メモリー) sortira le 18 mai.
Il s'agit du 6e single de la membre des YuiKaori et actrice de doublage Ogura Yui. Il inclut des titres pop et rock.
Les pochettes, la version courte du clip et le making-of ont été dévoilés.
La chanson titre est le thème de l'opening de l'anime Card Fighter! Vanguard G Stride Gate (カードファイト!! ヴァンガードG ストライドゲート編) diffusé sur TV Tokyo.
Dans le clip vidéo, Ogura Yui danse au bord de la piscine d'un centre de vacances. La scène se déroule à Guam.
La face B To Be Alive est le thème principal du jeu vidéo Summon Night 6: Lost Borders (サモンナイト6 失われた境界たち) sur PS4 / PS Vita.
Tracklist
CD

High Touch Memory (ハイタッチ☆メモリー)
To Be Alive
High Touch Memory (Off Vocal)
To Be Alive (Off Vocal)
DVD

High Touch Memory (Music Video)
Making-of
Clip Vidéo (MV)