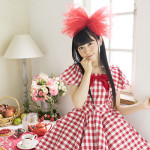 Le 1er album de Ogura Yui Strawberry Jam est en vente depuis le 25 mars.
Ogura Yui est une actrice de doublage (seiyuu) populaire. Elle est également membre des YuiKaori.
Découvrez la version dance du clip ainsi que la version courte du making-of.
Cet album inclut des titres aux divers styles musicaux tels que de la pop, du rock ou des balades.
Ogura Yui interprète notamment la voix du personnage de Chris dans Cross Ange: Rondo of Angels and Dragons, et aussi de Tsutukakushi Yukiko dans The « Hentai » Prince and the Stony Cat.
L'album contient 12 chansons.
Les éditions limitées sont accompagnées d'un DVD ou d'un Blu-ray incluant 5 clips vidéos et le making-of.
Tracklist
CD

Fun Fun Merry Jam
Charming Do!
Itsudatte Call Me! (いつだって Call Me!)
A Lovely Tea Break
Pon de Fighting!
Get Over
Raise
Sugar Heart Eiku (シュガーハートエイク)
Tinkling Smile
Happy Strawberry
Baby Sweet Berry Love
Sing-a-ling-a-Harmony
DVD / Blu-ray

Happy Strawberry (Music Video)
2. Raise (Music Video)
3. Baby Sweet Berry Love (Music Video)
4. Charming Do! (Music Video)
5. Tinkling Smile (Music Video)
6. Making of Strawberry Jam
Clip Vidéo (MV) & Making-of