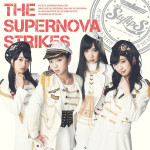 Le nouvel album des StylipS The Supernova Strikes sortira le 26 novembre.
L'album contient 16 chansons dont les derniers single des StylipS Prism Sympathy, Nova Revolution et Junsui na Fujunbutsu.
Les chansons Jelly Beans Diary et Jelly Beans Diary sont interprétées respectivement par les duos Ito Miku / Toyota Moe et Noto Arisa / Matsunaga Maho.
Les éditions limitées incluent un DVD ou un Blu-ray comportant de nombreuses vidéos bonus tels que des clips, un making-of, des shows du groupe d'idols, un live…
D'autre part, la tournée de concerts StylipS First Live Tour 2015 The Supersonic Supernova se déroulera de mars à avril 2015 à Tokyo, Nagoya et Osaka.
Tracklist
CD

Melancholic Sunshine
Prism Sympathy
Making Of « Especially » ~トクベツのできるまで~
Jelly Beans Diary (ジェリービーンズ・ダイアリー) (Like Cover Girl) feat. Ito Miku & Toyota Moe
Tsunago Kizuna Tsusumu Kodoku (ツナグキズナ・ツツムコドク)
Addicted
Hoshi Naru Yoru no Yuuwakusha (星鳴る夜の誘惑者)
The Supernova Strikes (Inst.)
Nova Revolution (Novaレボリューション)
Resonant World feat. 松永真穂
All You Need Is Dance feat. Noto Arisa & Matsunaga Maho
Android Rhapsody
Junsui nz Fujunbutsu (純粋なフジュンブツ)
Brand-new Style!! ~Mahou Mitai na Show time~ (~魔法みたいなShow time~) (Step two)
Spica.
Ushiro Kami Journey (うしろ髪ジャーニー)
DVD & Blu-ray (Type A / B)

Music Video

Melancholic Sunshine
Junsui na Fujunbutsu
Nova Revolution
Prism Sympathy

Dance Style

Melancholic Sunshine
Junsui na Fujunbutsu
Nova Revolution
Prism Sympathy

Making Style

Melancholic Sunshine (Making-of)

Otome Tika Theater (乙女ティカシアター)

mission 1
mission 2
mission 3

Otome Shou Moratorium! (乙女荘もらとりあむっ!)

Episode 1 (第1話)
Episode 2 (第2話)
Episode 3 (第3話)
Blu-ray (Type B)

StylipS[Brand-new Style!! Volume six « 春の乙女大三角 »]

Nova Revolution
Miracle Rush
Addicted
All You Need Is Dance
Resonant World
Blue Moon Dream
Tsu・Ba・Sa
Tsunagu Kizuna Tsutsumu Kodoku
Jelly Beans Diary (Like Cover Girl)
Prism Sympathy
Junsui na Fujunbutsu
Spica.
Ushiro Kami Journey
Brand-new Style!! ~Mahou Mitai na Show time~ (step two)
Junsui na Fujunbutsu (Encore)