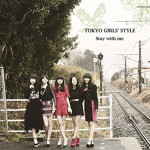 Le prochain single of Tokyo Girls' Style intitulé Stay with me sortira le 11 mars prochain.
Il s'agit du 18e single du groupe d'idoles. La chanson Stay with me a été écrite par Yamabe Miyu.
La tracklist a été dévoilée. Plusieurs éditions seront disponibles : 4 éditions notées A, B (les deux contenant un CD et un DVD en supplément), C et D (le deux contenant un CD seulement).
Le CD conprendra plusieurs chansons tels que la principale Stay with me, les chansons en face B A New Departure and Kasokudo ainsi que leur versions instrumentales. Le CD des éditions A, B et C contiendront un titre bonus, la chanson co-face A du single Say long goodbye en version remixée.
Le DVD des éditions A et B comprenda la musique vidéo de Stay with me et son making of.
De plus, le précédent single des Tokyo Girls' Style Say long goodbye / Himawari to Hoshikuzu -English Ver.- est en vente depuis le 10 décembre. Aussi, la 1re compilation des Tokyo Girls' Style intitulée 1st Best Album Kirari☆ (1st BEST ALBUM キラリ☆) sera mis en vente à la même date que le prochain single.
Tracklist
CD

Stay with me
A New Departure
Kasokudo (加速度)
Stay with me (Instrumental)
A New Departure (Instrumental)
Kasokudo (Instrumental)
Bonus des éditions limitées A, B et C

Say long goodbye -Vocal Only for REMIX-
DVD de l'édition limitée A

Stay with me (Music Video)
Making movie
DVD de l'édition limitée B

Odekake Off-Shot Video