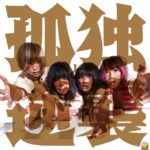 Les You'll Melt More! ont sorti leur nouveau single Kodoku to Gyakushuu EP (孤独と逆襲EP) le 15 mars.
Il s'agit du 5e single du groupe d'idoles.
Le clip de la chanson Furuete Yomigaere et d'autres vidéos ont été dévoilés.
Le single est vendu en éditions régulière et limitée.
La chansons Furuete Yomigaere et Kodoku na Kemono ont été écrites par Kobayashi Ai, composées et arrangées par Dai Kochi et Hashida Kazuma du groupe de rock Hakoniwa no Shitsunaigaku, avec qui les You'll Melt More! avait déjà travaillée auparavant.
Le DVD de l'édition limitée contiendra la vidéo d'un concert tenu au Liquidroom issu de la tournée We Are A Rock Festival Tour Final -Return to Zero- le 24 octobre dernier.
Tracklist
CD

Furuete Yomigaere (震えて甦れ)
Kodoku na Kemono (孤独な獣)
Furuete Yomigaere (Instrumental)
Kodoku na Kemono (Instrumental)
DVD

We Are A Rock Festival Tour Final -RETURN TO ZERO- at LIQUIDROOM (Video)
Clip Vidéo (MV)