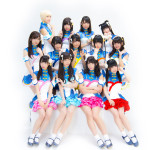 Afilia Saga (アフィリア・サーガ) is a Japanese idol group formed in November 2008.
They describe themselves as "the maidens for love, bravery and magic".
It currently consists of 13 members. Each one has been assigned a color.
The unit is based in Tokyo.
Biography / History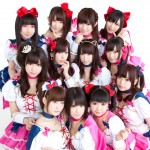 Afilia Saga performed many tie-up songs for anime series, video games and TV shows such as Steins Gate, Tanteibu The Detective Club, Hyperdimension Neptunia (神次元ゲイムネプテューヌ), Venus and the Seven Blue Seas (ヴィーナスと蒼き七つの海), Isuca (イスカ)…
They also make some appearances as actresses or on the radio.
The idol unit is part of Afilia maid cafes and restaurants located in the districts of Ikebukuro, Ueno, Roppongi and Shinjuku in Tokyo. The members also work there as maids.
The program Afilia Saga Tora no Ana (アフィリア・サーガ・虎の穴) was airing on Kids Station from November 2008 to March 2010.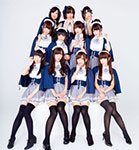 Their 1st single Luminous no Izumi (ルミナスの泉) was released in March 2009.
The internet show Afilia Saga no Magical! Time (アフィリア・サーガのマジカル!タイム) was broadcast on Akiba.TV from April to September 2010.
The girls hosted Afilia Saga Quest (アフィリアサーガクエスト) on Enta!371 (エンタ!371) from September 2010 to December 2012.
Their 1st album Whitism was released in June 2013.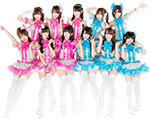 The idol unit held its 1st live in June 2011 at Shibuya Duo Music Exchange in Tokyo.
The word "East" was removed from the idol group's name in June 2013.
Afilia Saga signed under Mages' label Stand-Up! Records in February 2014. They were the first artists to be part of this idol-specialized label.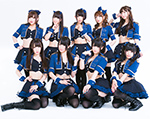 Love Berry Janne, Nana Drop Bijou, Alice Rozen and Myuna Shulita were recruited as new members in July 2014.
Afilia Saga One Man Live Forest of Brillia in Hong Kong was held in February 2015.
Miku Doll Charlotte played the role of a pro wrestler in the stage play Ring no Macbeth (リングのマクベス) in May 2015 at Woody Theatre Nakameguro.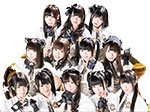 Laura Sucreine announced her graduation and retirement from entertainment industry in May 2015.
Ayami Chercy Snow, Miku Doll Charlotte and Kohime Lit Pucci appeared as guests in the stage play Nukketsu Seishun Gasshou Monogatari Dream Crescendo ~Stage of the Ground~ (熱血青春合唱物語 ドリームクレッシェンド~Stage of the ground~) in July 2015. The leading roles were performed by Idol College.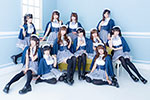 Momoko Little Berry and Moe Mieray joined Afilia Saga as new members in July 2015.
Their 3rd album Realism, on sale in August 2015, includes the songs Tenkou Girl (転校ガール) and Chiisana Mahou ~Small Magic~ (ちいさなまほう).
In September 2015, Raymee Heavenly graduated in order to pursue her career as a voice actress (seiyuu).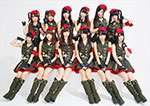 Louise Sforzur and Ayami Chercy Snow host the radio show Afilia Saga Otaku Bu (アフィリア・サーガおたく部) on FM Port since October 2015.
Louise Sforzur, Yukafin Doll and Ayami Chercy Snow announced their graduation in November 2015. They left the idol group in February and March 2016.
Kaori Selene Gotland, Kana R Norwich and Yumi W Klein were recruited as 10th generation members in December 2015.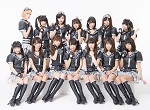 They made their first appearance on the single Itsuka Mita Niji no Sono Shita de (いつか見た虹のその下で) on sale in March 2016.
As a gravure idol, Maho Sotto Voce released her 1st solo DVD Mahou Shoujo (魔法少女。) in December 2015. It includes sexy videos of her in swimsuit, maid and school uniforms.
In January 2016, Ayami Chercy Snow participated in an event to promote Amalka (アマールカ). The project is based on the 1970s Czechoslovak animated television series Víla Amálka (Fairy Amalka) which became popular recently in Japan. A lot of licensed products around the characters have been created. Ayami told she was a fan of the story.
Afilia Saga's official Line account was opened in March 2016.
In May 2016, Yukafin Doll explained that she was going to continue her activities until early 2017.
Alice Rozen announced her graduation in September 2016.
Profile
Afilia Saga (アフィリア・サーガ)
Years active : 2008 – present
Label : Stand-Up Records
Agency : 5pb
Members
Kohime Lit Pucci (コヒメ・リト・プッチ) – Red
Yukafin Doll (ユカフィン・ドール) – Dolphin Blue
Miku Doll Charlotte (ミク・ドール・シャルロット) – Pink
Maho Sotto Voce (マホ・ソット・ボーチェ) – Blue
Alice Rozen (アリス・ローゼン) – Orange
Love Berry Janne (ラブ・ベリー・ジャンヌ) – Light Pink
Nana Drop Bijou (ナナ・ドロップ・ビジュー) – Yellow-Green
Myuna Shulita (ミュナ・シュリータ) – Red-Brown
Momoko Little Berry (モモコ・リトルベリー)
Moe Mieray (モエ・ミーレイ) – Angel White
Kaori Selene Gotland (カオリ・セレーネ・ゴドランド) – Green
Kana R Norwich (カナ・R・ノーウィッチ) – Yellow
Yumi W Klein (ユミ・W・クライン) – Light Blue
Former Members
Ramune Lithe Antique (ラムネ・リザ・アンティーク)
Lily Coco Evance (リリィ・ココ・エヴァンス)
Mayurin Shidii Messhu (マユリン・シディー・メッシュ)
Yuki Callenreese (ユウキ・カーレンリース)
Mew Chat Noir (ミュー・シャ・ノワール)
Rose Gardenfairy (ロゼ・ガーデンフェアリー)
Meena M Frace (ミィナ・M・フラーチェ)
Karen Classica (カレン・クラシュカ)
Kurumi Lala Milk (クルミ・ラーラ・ミルク)
Meiry Malonfeel (メイリ・マロンフィール)
Aria M Milvana (アリア・M・ミルヴァーナ)
Emiu Weilschmidt (エミュウ・ヴァイルシュミット)
Reina Scott Mauser (レイナ・スコット・モーゼル)
Laura Sucreine (ローラ・シュクレーヌ)
Raymee Heavenly (レイミー・ヘヴンリー) – Purple
Ayami Chercy Snow (アヤミ・チェルシー・スノウ) – Yellow
Louise Sforzur (ルイズ・スフォルツア) – Green
Discography
Singles
31/03/2009 : Luminous no Izumi (ルミナスの泉)
27/05/2009 : Meridin no Inori (メリディンの祈り)
03/02/2010 : Houkago Romance / Kyouikuteki Yubi! (放課後ロマンス / 教育的指導!)
28/04/2010 : Watashi☆Love na☆Otome! (ワタシ☆Loveな☆オトメ!)
01/12/2010 : Knee High Egoist (ニーハイ・エゴイスト)
27/07/2011 : La*La*La Revolution (La*La*Laラボリューション)
28/03/2012 : Mirai ga Watashi wo Matteiru (未来が私を待っている)
13/06/2012 : Kindan Muteki no Darling (禁断無敵のだーりん)
13/11/2012 : Survive!!
07/08/2013 : Neptune Sagashite (ネプテューヌ☆サガして)
13/11/2013 : S・M・L☆
23/07/2014 : Magical Express Journey (マジカル☆エクスプレス☆ジャーニー)
26/11/2014 : Japonesque × Romanesque
11/02/2015 : Never Say Never
18/11/2015 : Embrace Blade
02/03/2016 : Itsuka Mita Niji no Sono Shita de (いつか見た虹のその下で)
Albums
01/06/2011 : Whitism
24/04/2013 : Archism
26/08/2015 : Realism
Links
News