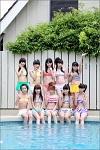 Alo! Hello 6 Morning Musume (アロハロ! 6 モーニング娘。) will be released on DVD and Blu-ray on December 26.
It includes video footage of the 10 current members of Morning Musume in Hawaii for the first time. The filming was made in June 2012.
Alo Hello! Morning Musume Photobooks 2012 will be released on November 16, December 16 and January 16.