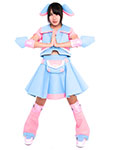 Amagawa Uchu (天川宇宙) is a multi-talented Japanese artist. She an idol; a model, an illustrator and a writer.
She was born on December 3, 1996 in Tokyo.
Biography / History
Amagawa Uchu debuted her career in 2013.
She performed in Iwai Shinji no Movie Lab (岩井俊二のMovieラボ) which aired on NHK Eテレ in January 2013.
Amagawa Uchu participated in the audition for the Miss iD 2015 (ミスiD2015) contest in the summer of 2014. She won the Kishida Mel Prize (岸田メル賞).
She appeared on the MV for Oomori Seiko's song Imitation Girl (イミテーションガール) in December 2014.
Some pictures of her were published in Sakebi (叫び) magazine in December 2014.
Amagawa Uchu started her activities as a solo idol in the beginning of 2015.
She wears a futuristic blue and pink costume with big ears.
As an idol, she holds regular live performances.
Her 1st EP Heikou Uchuu Magical Planets (平行宇宙マジカルプラネッツ) was released in February 2015 under Maltine Records label.
Amagawa Uchu appears on the Cheerz mobile app for smartphones since March 2015. She is regularly in the top ranking.
She worked as a model for Mikio Sakabe 2015 S/S Lookbook and Gomi Hayakama 15′ s/s PRG collections.
Amagawa Uchu and photographer Edamame collaborate on the Cosmic Force project. The concept is to publish and share photos of the idol.
Her hobbies are internet, games and movies.
Profile
Amagawa Uchu (天川宇宙)
Birth date : 03/12/1996
Birth place : Tokyo
Blood type : AB
Height : 163 cm
Size : B75 W60 H85
Years activie : 2013 – present
Label : Maltine Records
Agency : Asia Promotion
Discography
Singles
02/02/2015 : Heikou Uchuu Magical Planets (平行宇宙マジカルプラネッツ)
Albums
Links
News